Special issue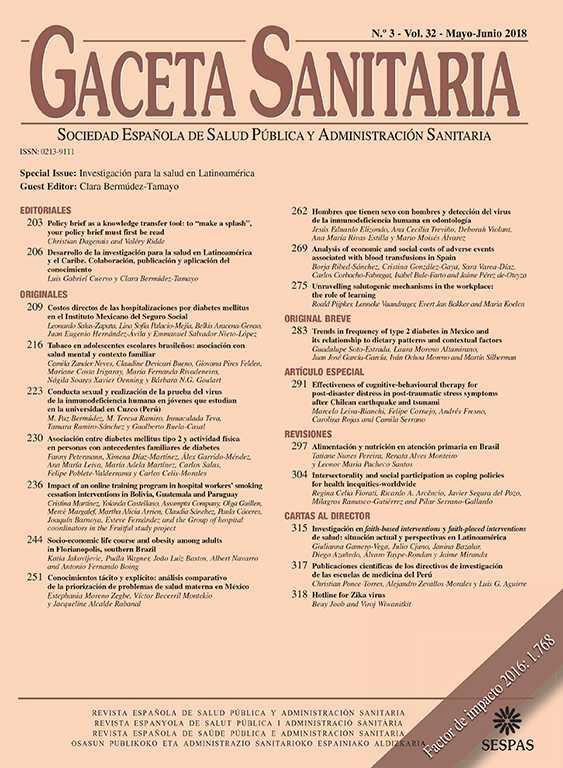 This article is part of special issue:
Vol. 35. Issue S2
The 3rd International Nursing and Health Sciences Students and Health Care Professionals Conference (INHSP)
More info
Abstract
Objective
The purpose of this study is to describe the personal hygiene and sanitation of food cutlery (bowl) on meatball cart traders at Makassar City.
Methods
This research using descriptive observational with non-probability sampling techniques and accidental sampling method.
Results
80% respondents had good personal hygiene. Almost all respondents qualify the requirement of hand and finger hygiene, as well as hair hygiene. For clothes hygiene indicators, most qualify the requirements. As for the indicators of handwashing practices and the use of gloves, all respondents did not qualify the requirements. While the results of research related to food cutlery sanitation showed that knowledge that 86.7% were high, but many still did not know washing water requirements and bowl conditions when in storage.
Conclusion
Most handlers attitude was categorized as adequate. It is suggested that the meatball cart traders always pay attention to hand hygiene and sanitation of cutlery to avoid bacterial contamination.
Keywords:
Food handlers
Hygiene
Meatball traders
Sanitation
Full Text
Introduction
Poor concern for food safety is a major source of illness and has been linked to more than 2000 diseases.1 Adequate quantities of safe and nutritious foods are used to sustain and promote good health, while the unsafe variety possibly contains harmful bacteria, viruses, parasites or chemical substances.2
Meatball is one of Indonesia's most popular street foods and mostly sold by mobile hawkers, using a cart. As meat based-food, meatballs have a high risk of microbial contaminants from numerous sources. Its high protein content provides the ideal medium for the growth of pathogenic organisms.3 Furthermore, high water content during processing has been associated with the accelerated growth and brings in a favourable pH for most enteric microorganisms.4 The cart moves from one place to another, thus having a huge opportunity to contact with bacteria in anyplace they passed by. Mostly, the sellers unable to maintain their hygiene routines, such as handwashing before and after contact with food or other things. It is due to insufficient facilities in supporting personal hygiene, such as duster, soap, or cleaning water, resulting in bacteria multiplication. As peddlers have a high potency to contact with bacteria in the served food,5 they are suggested to tailor with a healthy behaviour concerning food-management.
In Korea and Taiwan, food sanitation was significantly more important than the satisfaction of consumers on taste.5 Application of food sanitation considers several factors of place, food, people, food processing equipment, and cutlery.6 Peddling results in the limitedness of facilities brought such as duster, soap, and cleaning water. It is associated with poor personal hygiene and sanitation on cutlery by which bacterial contamination was unforeseen.
Food handlers influence the protection of food from bacterial infection. They determine the food quality as could spread to the food.5 Producing, packing, and purchasing processes often become conveyors of microbes. The commencement of food-borne illness has been related to improper cooking and storage.4 Unsafe handling practice of food also contributes to the existence of bacteria. Therefore, safer practices prevent the spread of food-borne diseases.
This study aims to describe the attitude of meatball vendors during food preparation. The results are expected to contribute as information towards the improvement of vendor or awareness, in terms of safe handling practices and also to clarify the individuals' potential role in food pathogen transmission.
Methods
This was a descriptive observational study, conducted in the three districts of Makassar City, including Makassar, Ujung Tanah, and Tamalanrea.
Sampling procedure
Thirty mobile meatball vendors in the three districts were included accidentally for this study.
Hygiene and sanitation knowledge and attitude
The vendors were interviewed by means of a questionnaire asking their knowledge on utensil washing, drying, and storage technique. The vendor attitude was evaluated through observation sheets. These include considerations for hand hygiene, cleanliness of hair and clothes, hand washing practice, and the use of gloves. Also, the manner of handling the used bowl was observed. Each item was evaluated based on some indicators.
Result
Respondents characteristic
The age of the respondents varied from 18 to 25 years (36.7%) to >35 years (36.7%). The respondents were classified into three categories of selling duration, and most of them have been meatball cart sellers for <10 years. Most of the traders sell around Makassar sub-district (50%), followed by Ujung Tanah (33.3%), and Tamalanrea (16.7%). This characteristic is presented in Table 1.
Table 2 shows that 86.7% of the respondents had high knowledge of the dishwashing, drying, and storing method. Tables 3 and 4 present data on vendor hygiene and sanitation during food preparation. It can be seen in Table 3 that most individuals demonstrated good hand cleaning, and use hands alone to prepare food, without utensil, including spoons and forks. Moreover, most respondents wear clean and bright clothes, but no one made use of apron and gloves. In addition, all vendors tend to evade hand washing before and after preparing food or touching other objects. Also, the handling of bowls after use was substandard, as depicted in Table 4.
From five investigated categories on personal hygiene, 53.3% of the respondents had already followed hands and finger hygiene altogether with hair and clothes, respectively 96.7% and 63.3%. In contrast, all the respondents (100%) had not done the practice of handwashing and wearing gloves.
Discussion
Food handlers' attitude while preparing meatballs contribute to increasing of bacteria present on the cutlery and food.7 Thus, protection of food from contamination of microorganisms must be ensured by maintaining personal hygiene, and it becomes the responsibility of the vendors in handling their product.
Hands are the main part of the body, implicated in the food handling process, and infectious diseases are generally disseminated through the faecal–oral tract, with hand to mouth contact. The incidence of bacteria-contamination often results from poor hygiene.8 This study found that majority of respondents had adequate personal hygiene in most of the indicators except utilizing utensil for preparing the meatball. They still used their hand without gloves for that. This result is congruent with the report by Lambrechts et al. (2014) that low cleanliness was reported for food handlers, hence they need to improve knowledge.9 Another study showed good nail and hands hygiene in 86.7% of respondents.10
Regular handwashing with soap is a leading indicator of personal hygiene which diminishes bacterial contamination from hands to food. Furthermore, the procedure is essential for food handlers, due to the frequent contact with food and cutlery during preparation, cleaning, processing, mobilization, and serving.11 Moreover, unwashed hands are more likely to increase microorganism load, inclined towards processing food contamination. The attitude of wearing gloves is suggested to preclude the interaction between bare hands and the served food, in efforts to hamper the transmigration of pathogenic organisms. However, all respondents in this research did not wear gloves, thus increasing the contamination risk. The dirtiness of hands is responsible for the bacteria discovered, as vendors also evaded good hand washing practice before making contact with the meatball. This outcome is congruent with previous reports, where hands swabs showed a significant amount of bacteria colony, resulting from improper washing behaviour, as well as periodic replacement of dishwater, and poor personal hygiene.12 A similar result was presented in study13 where most respondents avoided the use of gloves. Despite the use of personal protective equipment, cleanliness is uncertain because of inadequate washing or cleaning, daily, result in a high risk of bacteria-contaminated food.13 The recommended gloves ought to be disposable and used once, particularly after touching raw food, money, and after scratching limb. In addition, gloves have become a potential source of bacterial contamination.14
With regards to washing, drying, and storage technique for bowls, the dishwater appeared dirty, turbid and mixed with food waste. Also, it is important to use the washing water present in the bucket for a maximum of one or two times. However, 20% of traders failed in these criteria. This result also supported by research that suggested the use of caps, masks, gloves, and decent clothes while handling food. This attitude is a positive approach towards reducing bacterial contamination, with particular concerns on the situation of abrasions and cuts on fingers or hands. Also, painted and long nails are not permitted to touch unwrapped foods, and it is crucial to consider proper sanitation of knives and cutting boards, as well as the use of towels.7
Conclusion
The presence of microorganisms in hands and food triggers the onset of food-borne illness to the consumers. Most respondents demonstrated good personal hygiene, and complied with the requirements for nail, finger and hair cleanliness. In addition, a majority met the clothing criteria, but defective in the indicators of proper handwashing, as well as the use of gloves.
Ethics approval and consent to participate
Ethical approval was obtained from Ethic Committee, Faculty of Public Health, Hasanuddin University, using the letter number 2374/UN.4.14.8/TP.02.02/2019. Also, Informed consent was obtained from the vendors prior to the collection of samples.
Competing interests
The authors declare no competing interests
Acknowledgments
The authors are grateful to the laboratory technician for the assistance provided during analysis, and also to all the respondents for the participation and corporation.
Peer-review under responsibility of the scientific committee of the 3rd International Nursing, Health Science Students & Health Care Professionals Conference. Full-text and the content of it is under responsibility of authors of the article.